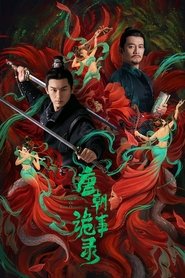 Strange Legend of Tang Dynasty 2022
Nonton Strange Legend of Tang Dynasty 2022, Ketika keabadian jahat yang gelap turun dari surga, dan istana hantu bawah tanah yang misterius terungkap, ramuan aneh bernama Teh Hitam tiba-tiba menguasai Kota Chang'an. Namun, tidak ada yang tahu apakah itu obat yang sehat atau yang bisa membahayakan orang.
Kasus pengantin hilang di Kota Chang'an mulai terjadi satu demi satu, yang tampaknya terkait erat dengan teh hitam …
Ling Feng, jenderal penjaga Jin Wu ditugaskan untuk menyelidiki kasus ini. Dalam perjalanannya, ia bertemu lawan terkuatnya di Su Wu Ming, murid Di Ren Jie. Keduanya bekerja sama untuk memecahkan kasus misterius ini.