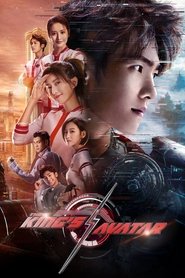 The King's Avatar 2019
Nonton The King's Avatar 2019, Ye Xiu adalah pemain bintang di tim esports yang mendominasi liga-liga hit multiplayer Tiongkok berjudul "Glory." Namun, hari-hari bermain game-nya tampaknya terhenti tiba-tiba, ketika dia dipaksa keluar dari timnya – yang ingin menerima kesepakatan sponsor yang menguntungkan, dia sangat ditentang.
Merasa kesal, Ye Xiu bekerja di sebuah kafe internet tengah malam, dan akhirnya menjalin pertemanan dengan Chen Guo, pemilik kafe. Akhirnya, Chen Guo mengungkapkan rencananya – untuk meluncurkan tim "Glory" baru yang dipimpin oleh Ye Xui. Akankah Ye Xiu melanjutkan hari-hari "Kemuliaan" nya? Dan bisakah dia merekrut – dan melatih – cukup banyak anggota untuk kembali ke peringkat teratas nasional … dan membalas dendam pada mantan rekan setimnya yang tidak setia?
Views: 24066
Genre: Action & Adventure, Complete, Drama China, Trending TV Series,
Actors: Fan Jinwei, Lai Yi, Lai Yu Meng, Li Muzhen, Maggie Jiang, Sun Ning, Yang Tingdong, Yang Yang
TV Status: Returning Series
Duration: 45 min
Release: 2019